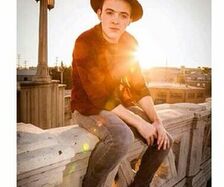 Ryland Michael Lynch
(born April 17, 1997) is an American DJ.
About
DJ Ryland Lynch is widely known as the youngest member of R5 along with his siblings Riker, Rocky, Ross and Rydel as well as Ellington Ratliff. It does not mean that he is the baby but more likely to be considered as the manager of the band although not being in R5 but has a large hand in R5's success. He is also a child actor, appeared in the latest Kids Bop commercial and video with Sean Kingston, known for his work on "The Fresh Beat Band" in 2004, "Google Maps is watching you" in 2011 and R5: "All day, all night
Before fame
Ryland Lynch is the youngest member in a family with 4 other siblings Riker, Rocky, Ross and Rydel, to her parents Mark Lynch and Stormie, in Colorado. He belongs to oriented type of person, always knows what he wants and how to achieve it with great drive and unique ability. He loves to play football and prank call people. At the age of 12, he was first introduced to the music industry when the rock band R5 was formed by his siblings.
Personal life
There is not much information about Ryland Lynch's personal life. He used to date Savannah Hudson, but they are broken up now. He including with his siblings have a close relationship in their family. They always give one another support to make R5 become successful.
Filmography
Social Media