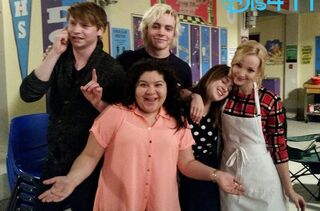 Austin & Ally
 is a multi-camera comedy about the relationship between two very different musicians: extroverted singer and instrumentalist Austin Moon (
Ross Lynch
), who is fun-loving and outgoing; and introverted and awkward songwriter Ally Dawson (
Laura Marano
), who is a good singer but had an extreme case of stage fright. In the pilot episode "Rockers & Writers", Austin secretly records one of Ally's songs without her knowledge. He becomes famous from it after his best friend Dez (
Calum Worthy
) directs Austin in a music video for the song and posts it on the internet. Once Ally, convinced by her best friend Trish (
Raini Rodriguez
), takes credit for her song, Austin convinces her to become his partner. The two agree to work together, and become close friends, while struggling to keep Austin's new-found fame and profit from it. Trish pitches in as Austin's manager and Dez continues to direct Austin's music videos. The foursome have many adventures while in Austin's music career. At the end of the first season, Austin gets signed to Jimmy Starr's record label.
The second season sees both Austin and Ally taking bigger steps. Ally conquers her stage fright by performing a duet with Austin. By the end of the season two finale, Ally signs a record deal and records an album with Ronnie Ramone, and Austin goes on his first national tour. Due to her schedule with Ronnie Ramone, Ally is unable to attend the first half of Austin's tour, but in the first two episodes of season three, Ally does attend the second half of the tour. In the middle of season 3, Austin's twin sister Anna (Sina Trace) shows up and causes a lot of trouble for her brother and the gang
Cast
Ross Lynch as Austin Moon
Laura Marano as Ally Dawson
Raini Rodriguez as Trish De La Rosa
Calum Worthy as Dez Wade
Sina Trace as Anna Moon
Guest Stars
Ally Vegaz as Avalon Dawson
Lindsay Star as Olivia Selena
Gallery
Ad blocker interference detected!
Wikia is a free-to-use site that makes money from advertising. We have a modified experience for viewers using ad blockers

Wikia is not accessible if you've made further modifications. Remove the custom ad blocker rule(s) and the page will load as expected.